Kipper
specialist trailers equipped with a hydraulic lift
1 Large loading space thanks to openable and Removable side walls
Trailers with wheels under the body. As a result, the loading space is much larger than in trailers from other manufacturers. All side walls can be opened or disassembled. They are the perfect solution for transporting materials loaded with a forklift truck from all 4 side walls of the trailer - not only at the rear. Removable side walls and a tilting loading surface make the work very easy.
2 Removable corners
All corner posts are removable, which makes the trailer universal and easy to adapt to different needs. After removing all the side walls and posts, you get a completely flat trailer for transporting loads of large dimensions (driving without corner posts is not allowed).
3 Strong side walls, strong closures
It is equipped with a double closing system in each corner. This is another feature of the trailer for professional and frequent use.
4 Welded frame and chassis
Welded frame and chassis as well as strong sagittal drawbar, all hot dip galvanized.
5 Hydraulic lift.
A large working range of the hydraulic lift with manual or mechanical pump in the form of an adapter for the screwdriver for easy operation. Manual tipping pump with an operation function by means of screwdriver. Thanks to this, you can unload even heavy loads efficiently and effortlessly.
| | |
| --- | --- |
| Accessory | GN251 |
| Name | N27-256 2 kipper |
| High Cover w/ Strap Fasteners, 1400 mm, 520 g/m2, Grey | AP300 |
| High Cover w/ Strap Fasteners, 1400 mm, 650 g/m2, Grey | AP301 |
| Hoops for High Cover, 1400 mm | GA442 |
| Spare Wheel, 165R13C, 5x112 mm | KK021 |
| Spare Wheel Support | GA428 |
| Mesh Side Kit, 600 mm | GA438 |
| Ladder Rack | GA439 |
| Driving stabilizer | GA403 |
| Anti-theft, Box Lock w/ Padlock | AU121 |
| Wheel wedges | AU123 |
| Wheel wedge handle | AU123A |
| A set of support legs | GA440 |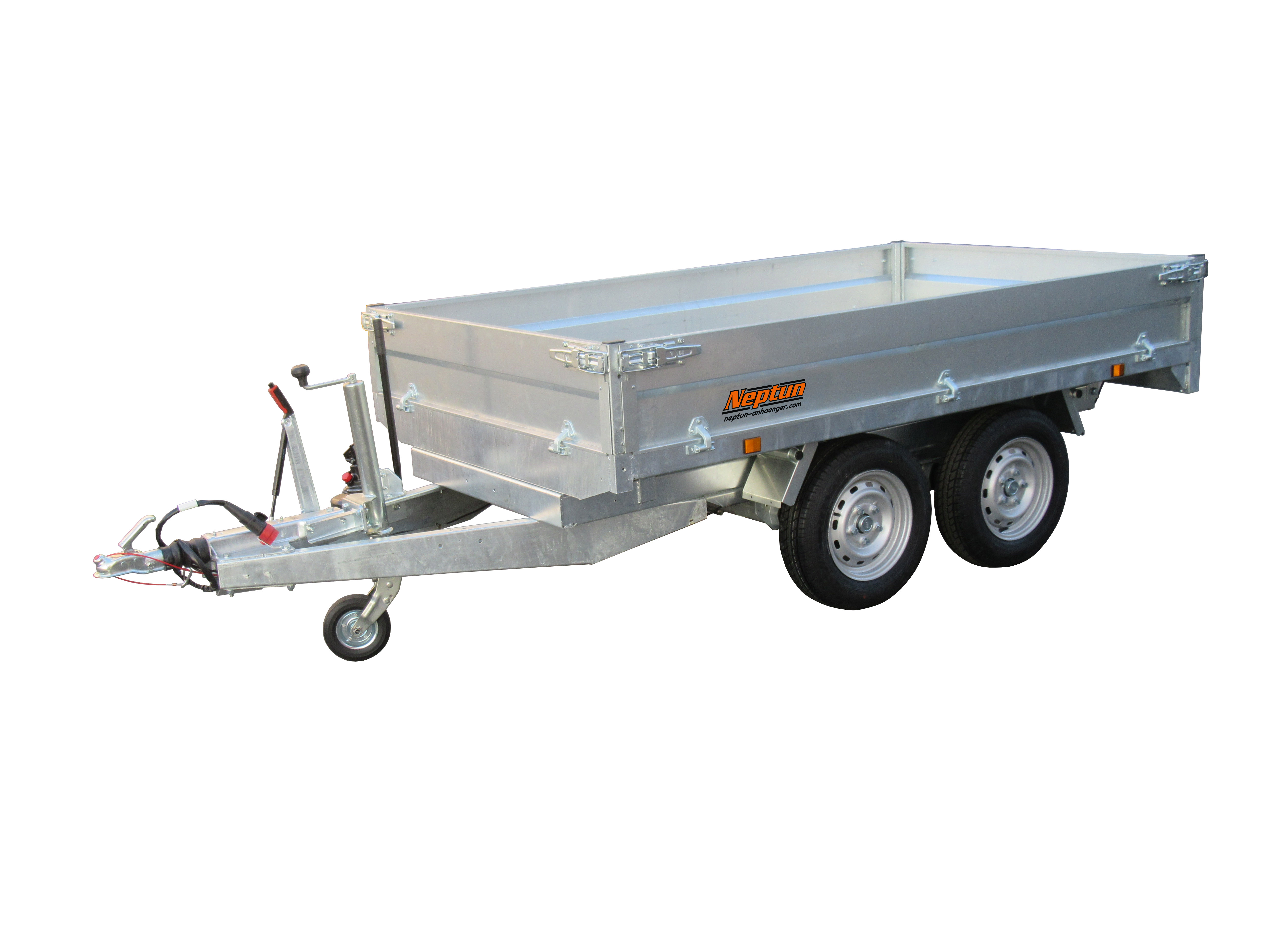 6 Easy load securing
Equipped with holders for securing the load that extend from the floor. The steel floor (platform) is therefore completely flat and loading is safe as no floor element will be damaged.
7 Lamp protection
Multifunction lamps are mounted inside the rear beam and under the tailgate, which protects them from damage, as well as moisture and mud. The cable connectors are protected in the best possible way and ensure many years of maintenance-free operation.
Download a PDF file with spare parts